I have published a revamped version of the Devil's Pact Side-Story: Tiffnay Wants a Nooner. Join Tiffany as she has a hot threesome with her husband and one of his students. It takes place during The Devil's Pact Part 32: Dominating Passion!
You can pick it up here! And, of course, I offer it free to my fans if you chose to!
Regular Price: $1.99
50% off with DA74K coupon at checkout.
100% off with VJ36L coupon at checkout.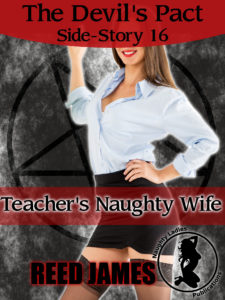 A hot wife has a wild time when she catches her husband doing a coed!
Tiffany is bored. She wants to get laid. Everyone is gone, Mark, Mary, her other daughters. Her husband is at work teaching college. Deciding to surprise her husband at work, she heads to his school.
And finds sleeping with a student, the nubile coed bent over his desk. Feeling naught, Tiffany decides to make her own fun out of it. As the coed trembles, Tiffany grins at her and tells her she needs to pay a price for sleeping with her husband.
The nubile coed's about to have her first lesson in pleasing a woman!
Teacher's Naughty Wife is a 5500 word oral, creampie, menage, anal, hot wife, teacher/student, coed, barely legal erotica that is not for the faint of heart!






by





by