I have published the thirty-second part of the Devil's Pact on Smashword just now!
You can purchase it here! I have several price options for my fans that will only be found here on this blog! Pay what you feel is appropriate or just pick it up for free! This part covers half of Chapter 33. There are many new scenes (Mark and Mary have some fun on their Honeymoon before it's ruined) and much of the original material was cleaned up and rewritten, bringing it to 27,000 words.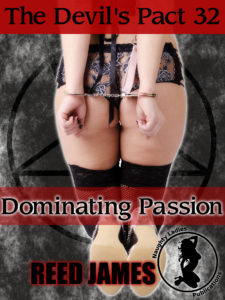 I would love feedback. If you don't want to leave reviews at Smashword (which I would really appreciate!!!) then please comment on this post and let me know what you think of the changes.
Regular Price: $2.99
33% off: $1.99 with DE72W coupon at checkout.
66% off: $0.99 with LP43F coupon at checkout.
100% off: Free with BN49G coupon at checkout.
Mind control powers dominates the passions of sexy twins and nubile girls!
Mark and Mary have arrived in Paris, France to enjoy their honeymoon. With their mind control powers, they dominate the passions of those around them, turning a protest into an orgy, enjoying a pair of nubile twins, and taking a daughter while her father watches!
But their enemies are on the move. Brandon has his hands on the knowledge to gain his own mind control powers. Eager for vengeance on Mark, Brandon will first dominate a nubile virgin, taking her hard.
And Lilith's vessel is finally born. Her plan to escape the Abyss bears fruit, and she harbors hatred for Mark and Mary.
Passions dominate and burn as The Devil Pact continues!
Dominating Passion is a 27,000 word mind control, domination/submission, oral, creampie, menage, anal, public sex, exhibitionism, voyeurism, hot wife, incest, twins, sister/sister, father/daughter, virgin, futa-on-female erotica that is not for the faint of heart!






by





by