I have published the fortieth part of the Devil's Pact on Smashword just now!
You can purchase it here! I have several price options for my fans that will only be found here on this blog! Pay what you feel is appropriate or just pick it up for free! This covers chapters 44, 45, and 46. Much of the original material was cleaned up and rewritten bringing it to 26,000 words.
I would love feedback. If you don't want to leave reviews at Smashword (which I would really appreciate!!!) then please comment on this post and let me know what you think of the changes.
Regular Price: $2.99
33% off: $1.99 with ZM39X coupon at checkout.
66% off: $0.99 with BZ26G coupon at checkout.
100% off: Free with KH63T coupon at checkout.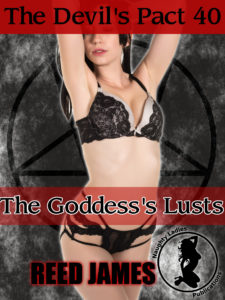 Lusts surges around the sexy goddess everywhere she goes!
Things are heating up. The conflict between Mark and the demon Lilith explodes. Watching her husband fight has gotten Mary's lusts burning. And the pregnant goddess gets what she wants. With her enchanting beauty, everyone wants to please her.
Even Fiona. Though the redhead hates Mary, she can't resist the perfect beauty. Under Mary's spell, Fiona will do anything to please the sexy goddess, putting her all into giving Mary rapture!
While Mary's learning everything Fiona knows, Lilith plots her revenge. She will take back her city and make Mark and Mary pay!
The Goddess's Lusts is a 26,000 word mind control, domination/submission, oral, anal, DP, menage, lesbian, supernatural, voyeurism, exhibitionism erotica that is not for the faint of heart!






by





by