I have published a revamped version of the Devil's Pact Side-Story: Ms. Blythe is Hot for Her Students. Join Ms. Blythe as she has naughty romps with her students. It takes place during The Devil's Pact Part 42: Passionate Love!
You can pick it up here! And, of course, I offer it free to my fans if you chose to!
Regular Price: $1.99
50% off with RS85X coupon at checkout.
100% off with WT48D coupon at checkout.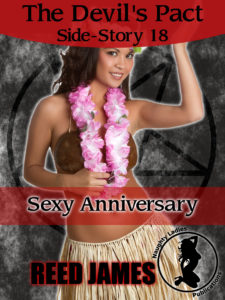 Mark and Mary celebrate their anniversary with a group of sexy Hawaiian girls!
Mark and Mary, using their mind control powers, have dominated most of the world. But they need a sexy vacation. Eager to celebrate their first year of marriage, the naughty pair wing to Hawaii to enjoy a bevy of sexy island girls!
But Mark is in for one hot show when the night falls. His sexy bride and the hot Hawaiian girls will melt his bones!
You have to read this hot erotica to find out what happens!
Sex Anniversary is a 6800 word mind control, voyeurism, oral, anal, creampie, dominating/submission, exhibitionism, interracial erotica that is not for the faint of heart!






by





by