I have posted another free story for my Patreon followers. For as little as $1 a month, you can read this story and others I've posted to my Patreon page. I would appreciate all the support and thanks for following my writings over the years. The support of my fans has changed my life. Thank you!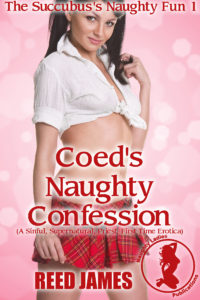 A naughty succubus corrupts a priest as he takes an innocent coed's confession!
Anastasia, a wicked succubus, is free from hell. And she's looking to play a naughty game. When she finds a priest aching to violate his vows, she knows just how to have fun.
And when an innocent coed named Alyssa walks in to give her confession, things heat up.
As Alyssa gives her confession, the succubus heats things up. Whispering naughty thoughts into the priest and the sultry coed, she inflames their desires. Alyssa will be taken hard for the first time by her hunky priest!
Coed's Naughty Confession is a 6900 word sinful, succubus, paranormal, demon, priest, clergy, first time, older man/younger woman, oral, menage erotica that is not for the faint of heart!






by





by