I have published the eleventh part of the Devil's Pact on Smashword just now!
You can purchase it here! I have several price options for my fans that will only be found here on this blog! Pay what you feel is appropriate or just pick it up for free! This part covers Chapter Fourteen. There are new scenes and much of the chapter was cleaned up and rewritten (the original chapter was 10k words, and now its 27k).
I would love feedback. If you don't want to leave reviews at Smashword (which I would really appreciate!!!) then please comment on this post and let me know what you think of the changes.
Regular Price: $2.99
33% off: $1.99 with XJ46A coupon at checkout.
66% off: $0.99 with JT68A coupon at checkout.
100% off: Free with BX39X coupon at checkout.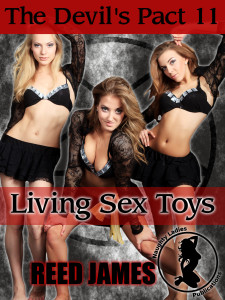 Mark takes his sex slaves out to have fun!
Mark loves his new life. Thanks to his pact with the Devil, he can control people's minds. Now he has a beautiful fiancee and a harem of sexy women devoted to pleasure them both.
But Mark's feeling bored, so he gathers his sex slaves. They're more than willing to do whatever naughty acts he wants. Whether it's masturbating in public or letting Mark use their hot bodies for his pleasure, these living sex toys are eager to serve!
While Mark has fun, Mary spends the afternoon with her lesbian lover, the FBI narrows in on Mark, and the reporter Jessica has a big lead that might lead to Mark's lair.
Living Sex Toys is a 27,000 word harem, mind control, supernatural, magic, oral, anal, public sex, masturbation, lesbian, menage, creampie, sex toys, BDSM, humiliation erotica! This kinky tale is not for the faint at heart!






by





by