I have published the twelfth part of the Devil's Pact on Smashword just now!
You can purchase it here! I have several price options for my fans that will only be found here on this blog! Pay what you feel is appropriate or just pick it up for free! This part covers Chapter Fifteen. There are new scenes and much of the chapter was cleaned up and rewritten.
I would love feedback. If you don't want to leave reviews at Smashword (which I would really appreciate!!!) then please comment on this post and let me know what you think of the changes.
Regular Price: $2.99
33% off: $1.99 with RL76B coupon at checkout.
66% off: $0.99 with VB88U coupon at checkout.
100% off: Free with BK94L coupon at checkout.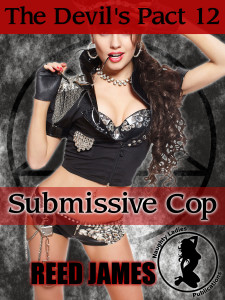 Mark enjoys have a submissive, sexy cop serving him! The Devil's Pact saga continues!
Chasity loves being the sex slave of Mark. Thanks to his mind control powers, this sexy cop loves serving him. What Mark wants, he gets, and she doesn't hesitate to arrest a sexy woman so her Master can enjoy her. Abby is scared at first, but Mark's power calms her down and she enjoys getting taken hard!
While Mark's having his fun, his fiancee Mary is shopping for wedding dress. During the fitting, Mary's passion boils over, and she can't help seducing the sexy Bonny. Dripping with passion, Mary enjoy Bonny's eager touch.
Submissive Cop is a 21000 word mind control, harem, domination, submissive, menage, anal, oral erotica that is not for the faint at heart!






by





by