I have published the fourteenth part of the Devil's Pact on Smashword just now!
You can purchase it here! I have several price options for my fans that will only be found here on this blog! Pay what you feel is appropriate or just pick it up for free! This part covers the end of Chapter Sixteen most of Chapter Seventeen (I cut the final scene earlier for a better cliffhanger) and the Side-Story: Mark and Mary Eat at Subway. There are new scenes and much of the chapter was cleaned up and rewritten, bringing it to an astounding 28,000 words.
I would love feedback. If you don't want to leave reviews at Smashword (which I would really appreciate!!!) then please comment on this post and let me know what you think of the changes.
Regular Price: $2.99
33% off: $1.99 with LJ23T coupon at checkout.
66% off: $0.99 with LS69U coupon at checkout.
100% off: Free with AZ43V coupon at checkout.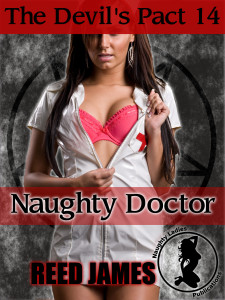 Mark and Mary wants a sexy doctor for their Harem!
Dr. Willow WolfTail is an OB/Gyn with naughty desires. Every time she has a woman in stirrups, all she wants to do is molest her patient's silky treasures. When Mary enters her exam room, she finally gets her desires. Mark and Mary claim Dr. Willow as their newest sex slave, and Willow indulges in her naughty fantasies!
As Mark and Mary have their fun, the demoness Lilith plots in the background. Mary has a secret desire, and Lilith plans on exploiting her lusts to turn her against Mark!
Naughty Doctor is a 28000 word mind control, medical, domination, submission, public sex, exhibitionism, menage, group sex, oral, anal erotica! This hot tale is not for the faint at heart!






by





by