I have published the twentieth part of the Devil's Pact on Smashword just now!
You can purchase it here! I have several price options for my fans that will only be found here on this blog! Pay what you feel is appropriate or just pick it up for free! This part covers chapter 22 and chapter 23. There is a new scene and much of the original material was cleaned up and rewritten, bringing it to 27,000 words.
I would love feedback. If you don't want to leave reviews at Smashword (which I would really appreciate!!!) then please comment on this post and let me know what you think of the changes.
Regular Price: $2.99
33% off: $1.99 with FL35M coupon at checkout.
66% off: $0.99 with RB22Z coupon at checkout.
100% off: Free with BB63C coupon at checkout.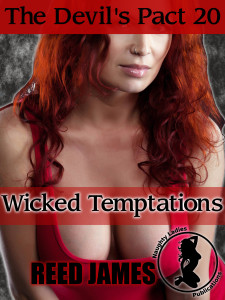 Mark has fallen under a nun's spell, driving a wedge between him and Mary.
Mary is hurting. She doesn't understand why her fiance has become obsessed with Antsy. As Mark pulls away, Mary becomes desperate to keep his attention. But not sultry Mary, their sex slaves, or even other women can draw Mark away from Antsy, his taboo lover.
As Mary spirals into depression, she realizes Mark has fallen under a spell. Her only hope is to turn to the demoness Lilith. But Lilith offers Mary wicked temptations. Mary's darkest fantasy will be unleashed—she sprouts something extra between her shapely thighs!
Will Mary stay strong in the face of the demon's temptation? Or will her love for Mark be forgotten as she savors the joy of being a dickgirl?
Wicked Temptations is a 23,000 word mind control, futa-on-female, futanari, transgender, taboo, harem, sex slave, magic, supernatural, menage, oral, toys, lesbian erotica that is not for the faint at heart.






by





by