I have published the twentieth part of the Devil's Pact on Smashword just now!
You can purchase it here! I have several price options for my fans that will only be found here on this blog! Pay what you feel is appropriate or just pick it up for free! This part covers chapter 25. There are new scenes and much of the original material was cleaned up and rewritten, bringing it to 24,000 words.
I would love feedback. If you don't want to leave reviews at Smashword (which I would really appreciate!!!) then please comment on this post and let me know what you think of the changes.
Regular Price: $2.99
33% off: $1.99 with ZJ77G coupon at checkout.
66% off: $0.99 with ZL38X coupon at checkout.
100% off: Free with EM22X coupon at checkout.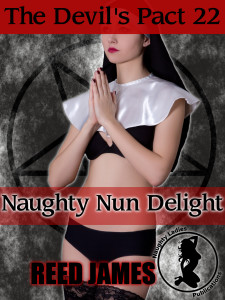 A naughty nun gets wild with a married man!
Sister Theodora has arrived in Washington to take on Mark and Mary. To pass the time, she finds herself in the arms of a married man. While writhing in bed with Craig, his wife calls. Theodora discovers a new level of naughty as she rides him while he has phone sex with his wife!
Mark and Mary are up to no good. United once again, the wicked pair of warlocks turns a bank into their own personal playhouse. They enjoy a pair of naughty, sexy bank tellers. Mark and Mary take their tellers hard and fast while the bank watches on.
And that's just the start of their naughty fun.
Naughty Nun Delight is a 24,000 word mind control, harem, sex slave, magic, supernatural, menage, oral, lesbian, voyeurism, exhibitionism, creampie, hot wife, cuckolding, cheating, nun erotica that is not for the faint at heart.






by





by