I have published the twenty-sixth part of the Devil's Pact on Smashword just now!
You can purchase it here! I have several price options for my fans that will only be found here on this blog! Pay what you feel is appropriate or just pick it up for free! This part covers Chapter 28 and Chapter 29. There are new scenes and much of the original material was cleaned up and rewritten, bringing it to 27,000 words.
I would love feedback. If you don't want to leave reviews at Smashword (which I would really appreciate!!!) then please comment on this post and let me know what you think of the changes.
Regular Price: $2.99
33% off: $1.99 with AW49G coupon at checkout.
66% off: $0.99 with NG83K coupon at checkout.
100% off: Free with SE94Y coupon at checkout.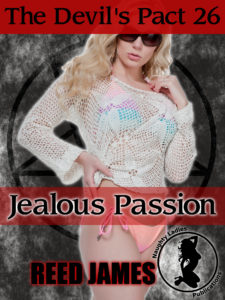 Alice has a hot, passionate love for Mary and a growing jealousy for Mark that will explode!
Alice can't stop thinking about Mary. As Alice's marriage sours, she finds herself more and more in love with Mary. Only one problem: Mary is engaged to Mark. But Alice doesn't care. She wants her lover all to herself. Until then, she'll settle for a wild, sapphic afternoon at the bridal shop.
And Sister Theodora has plans to exploit Alice's jealous passion.
While Mark and Mary believe their lives with their harem of nubile sex slaves is settling down, the Sisters of Mary Magdalena are readying their last attack. A desperate plan that only has one end for Mark and Mary!
Jealous Passion is a 27000 word mind control, harem, domination, submission, oral, anal, creampie, menage, hot wife, rimming, taboo, cheating, lesbian, public sex, supernatural erotica that is not for the faint at heart.






by





by