I have published the twenty-sixth part of the Devil's Pact on Smashword just now!
You can purchase it here! I have several price options for my fans that will only be found here on this blog! Pay what you feel is appropriate or just pick it up for free! This part covers Chapter 31. There are new scenes and much of the original material was cleaned up and rewritten, bringing it to 23,000 words.
I would love feedback. If you don't want to leave reviews at Smashword (which I would really appreciate!!!) then please comment on this post and let me know what you think of the changes.
Regular Price: $2.99
33% off: $1.99 with WQ68P coupon at checkout.
66% off: $0.99 with KQ64G coupon at checkout.
100% off: Free with RK86N coupon at checkout.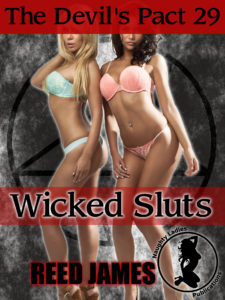 Mark and Mary's sex slaves, the sluts, have wicked decisions to make!
In the aftermath of the nun's attack and Mark's miraculous recovery, the sluts have been freed. They have to decide for themselves if they will stay as sex slaves or find their freedom. What will they decide?
And how much wicked fun will they have in the process?
Sam has found a naughty spell. Freed for the night, she decides to use it, transforming herself into a futa at a lesbian nightclub. She takes her new lover hard while the dance music thuds through the club!
Alison will have to put her skilled tongue to use to convince her fiancee Desiree to stay. The naughty, nubile slut will lick and please, making Desiree beg for more!
While the sluts grapple with their future, Mark and Mary discover that Mark's healing has gone viral. A burgeoning cult of beautiful women are all eager to worship with their nubile bodies!
Wicked Sluts is a 23000 word mind control, domination/submission, oral, incest, mother/daughter, sister/sister, creampie, menage, anal, public, angel erotica that is not for the faint of heart!






by





by