I have published the thirtieth part of the Devil's Pact on Smashword just now!
You can purchase it here! I have several price options for my fans that will only be found here on this blog! Pay what you feel is appropriate or just pick it up for free! This part covers half of Chapter 32 (the flashback sections) and half of Alison and Desiree Gets Married. There are many new scenes and much of the original material was cleaned up and rewritten, bringing it to 28,000 words.
I would love feedback. If you don't want to leave reviews at Smashword (which I would really appreciate!!!) then please comment on this post and let me know what you think of the changes.
Regular Price: $2.99
33% off: $1.99 with FJ24E coupon at checkout.
66% off: $0.99 with FJ24E coupon at checkout.
100% off: Free with JK76W coupon at checkout.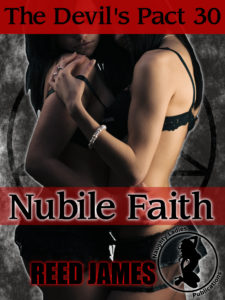 Mark takes a nubile bride on the altar, blessing her marriage to her father!
In the wake of the "Miracle," many have come to believe that Mark and Mary's demonic powers make them gods. Now nubile women flock to worship them with their bodies. The worship orgy burns hot as Mark and Mary revel in their newfound powers.
Mark and Mary preach free love. Anyone should be allowed to marry, even a father to his daughter. As the young bride marches up the altar, Mark has to claim her before the entire church and her father.
Mark takes the nubile bride hard, showing his followers the delights of uninhibited sex and passion while Mary revels in the reunion of her family, having a hot menage with her mother and father!
Nubile Faith is a 28000 word mind control, domination/submission, oral, incest, mother/daughter, father/daughter, creampie, menage, anal, public sex, exhibitionism erotica that is not for the faint of heart!






by





by