I have published the twenty-sixth part of the Devil's Pact on Smashword just now!
You can purchase it here! I have several price options for my fans that will only be found here on this blog! Pay what you feel is appropriate or just pick it up for free! This part covers Chapter 30. There are new scenes and much of the original material was cleaned up and rewritten, bringing it to 19,000 words.
I would love feedback. If you don't want to leave reviews at Smashword (which I would really appreciate!!!) then please comment on this post and let me know what you think of the changes.
Regular Price: $2.99
33% off: $1.99 with WN33C coupon at checkout.
66% off: $0.99 with UU35P coupon at checkout.
100% off: Free with BJ24Q coupon at checkout.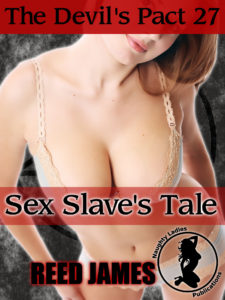 A former Warlock sex slave tells her story to Mary
Sister Theodora Mariam has captured Mary in the aftermath of the shootout. Mary is stunned to learn the nun is the mother who abandoned Mary and her family fifteen years ago. But her mother didn't abandon the family, she fell under the mind-control of a Warlock.
Mary listens to her mother's tale of the S&M life she lived under the domination of the sadistic Kurt.
While Mary reals from the revelation of Sister Theodora's true identity, Mark hovers on death. To save his life, he will have to strike another Pact with a demon. To get his fiancee back, Mark will have to make a life-changing decision.
Will Mark survive and how will Mary escape her mother's clutches?
Sex Slave's Tale is an 19,000 word mind control, domination/submission, hot wife, cuckolding, oral, watersports erotica that is not for the faint at heart!






by





by