I have published a brand new side-story. Join Suzette and Brian as they embrace their true desires. It takes place during The Devil's Pact Part 16: Virgin Deisres! Suzette was originally going to star in her own story, but I decided not to write it. She is the author of Second Missionaires, the chapter epigraph for Chapter 45 of the original Devil's Pact.
You can pick it up here! And, of course, I offer it free to my fans if you chose to!
Regular Price: $0.99
100% off with MS34X coupon at checkout.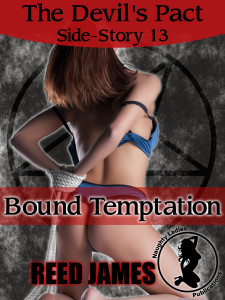 Brian faces temptation when his girlfriend wants to be tied up and spanked!
Brian has always thought his girlfriend was an innocent virgin. But when he walks in and finds her naked and eager to be dominated, he can't fight his lusts. Suzette has been bad, and she needs to be spanked hard.
Suzette is bound and nubile, eager to be taken hard!
Bound Temptation is 3800 word mind control, BDSM, bondage, spanking, domestic discipline erotica that is not for the faint at heart!






by





by