I have published a brand new side-story. This short tale hasn't ever been published before. It takes place during The Devil's Pact Part 13: Submissive Lust. What happened after Mark kicked Abby out of his car? She was gangbanged by cops!
You can pick it up here! And, of course, I offer it free to my fans if you chose to!
Regular Price: $0.99
100% off with WY59P coupon at checkout.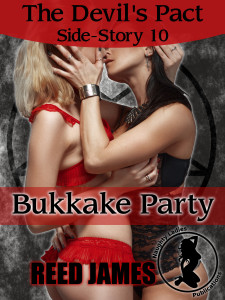 Lillian and Chasity are eager to get down and dirty with five hunky cops!
In the wake of the FBI's raid on Mark's house, two of his sex slaves have found a naughty way to relieve the stress. Lillian's has always burned to be the center of a filthy bukkake party, and now that she's Mark's sex slave she can live out her fantasy!
With Chasity and five mind-controlled cops, Lillian is ready to get down and dirty in this filthy, quick story.
Bukkake Party is 2900 word gangbang, oral, snowballing, mind control, interracial erotic quickie!






by





by