I have published a brand new Devil's Pact Side-Story. This one has never been published on my blog or any other site and only exists in the continuity of the published version.
You can pick it up here! And, of course, I offer it free to my fans if you choose!
Regular Price: $0.99
100% off with ST42V coupon at checkout.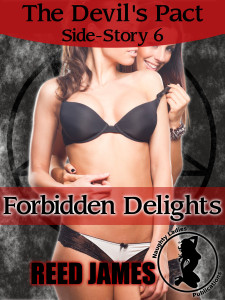 Cynthia dines on forbidden delights when she has dinner at her girlfriend's house.
Vivian is coming out to her mother and Cynthia is there to provide support. But when Cynthia meets Vivian's conservative mother, she's shocked that the MILF is hitting on her.
Interesting to see where this night will lead, Cynthia lets herself get seduced. But she has a naughty surprise for the MILF. Blindfolded, Vivian's mother has no idea who might be caressing her quivering body. And when she finds out, she's in for a taboo experience!
Forbidden Delights is a 3800 taboo, lesbian, menage erotica that is not for the faint at heart.






by





by