I have published a brand new side-story. This short tale hasn't ever been published before. It takes place during The Devil's Pact Part 14: Naughty Doctor. What happened when the sluts went to get waxed?
You can pick it up here! And, of course, I offer it free to my fans if you chose to!
Regular Price: $0.99
100% off with MX89T coupon at checkout.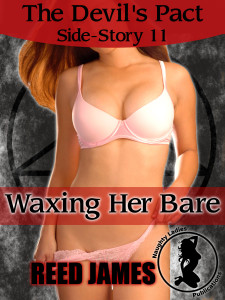 For the last week, Joy hasn't been able to think of anything than making love to Mary. Joy had never been with a woman before, but she couldn't resist Mark's commands and Mary's lusts. Today, she's in for another naughty experience as five of Mark and Mary's sex slaves walk into Joy's salon.
They're all itching to get waxed, but it's the bubbly and petite Violet that calls dibs on Joy. Her lusts burning, Joy knows that she'll do more than wax Violet bare!
Waxing Her bare is a 3300 word mind control, supernatural, lesbian, waxing, oral, anal erotica that is not for the faint at heart!






by





by