I have published a the first part of the revamped Tales from the Best Buy Incident. Join Jessie as she discovers a new way to give customer service! This covers the first two chapters of the Number One Rule of Retail woven together.
You can pick it up here! And, of course, I offer it free to my fans if you chose to!
Regular Price: $1.99
50% off with TT55H coupon at checkout
100% off with BQ79E coupon at checkout.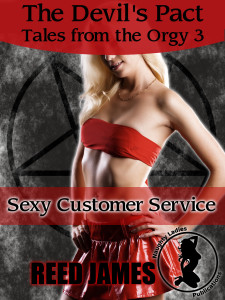 Jessie is eager to satiate her customers with her tight, young body!
After the Buy Best orgy, Jessie has learned a new way to make the customer happy—with her nubile, sexy, young body. She's eager to demonstrate her new skills. She's passionate to satisfy her customers in every way possible.
Meanwhile, Kevin, her coworker, can't get Jessie out of his mind. During the orgy, he had a taste of Jessie's charms, and he's eager for more. While Jessie's prostituting her body, Kevin is working up the nerve to ask the girl of his dreams out!
Sexy Customer Service is a 7200 word prostitution, mind control, hardcore, workplace, erotica that is not for the faint at heart!






by





by