I have published a the next part of the revamped Tales from the Best Buy Incident. Join Fatima as she deals with her lesbian desires and her desire to be a Good Muslim Girl. This is a cleaned up version of A Good Muslim Girl.
You can pick it up here! And, of course, I offer it free to my fans if you chose to!
Regular Price: $1.99
50% off with YU32R coupon at checkout
100% off with TK29Y coupon at checkout.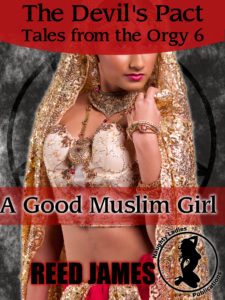 A good Muslim girl grapples with her lesbian desires after falling under Mark's mind control
Two weeks after the Incident, Fatima is still grappling with the lesbian passion she shared during the orgy. She can't get her mind away from Lucy, the beautiful woman she made love to. She just wants to be a good Muslim girl, to forget what happens.
But she can't. Lucy won't leave her thoughts.
Fighting her desires, Fatima can't stay away from her lover. She wants to be good, but her body wants to be so bad with Lucy. Will she stay pure, or will she succumb to her dream and enjoy Lucy's embrace?
A Good Muslim Girl is a 5000 word lesbian, first time, oral, 69, mind control erotica that is not for the faint at heart!






by





by