I have published a the next part of the revamped Tales from the Best Buy Incident. Join Fatima as she deals with her lesbian desires and her desire to be a Good Muslim Girl. This is a cleaned up version of A Good Muslim Girl 2.
You can pick it up here! And, of course, I offer it free to my fans if you chose to!
Regular Price: $1.99
50% off with FX78R coupon at checkout
100% off with ZU56G coupon at checkout.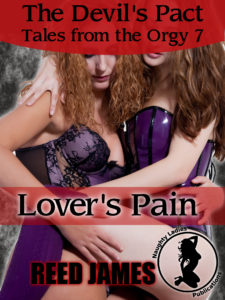 Fatima, a young Muslim, struggles with her lesbian desires!
Fatima has given in to her lesbian desires for Lucy after they were awakened during the Buy Best Orgy. Feeling she is a sinner, Fatima has harmed herself and scared her lover. Now days later, Fatima has to deal with the consequences of her action.
Does she want to go back to Lucy? To embrace her lesbian desire and make sweet love to Lucy.
And will Lucy take her back? Has Fatima's actions destroyed their relationship forever?
Lover's Pain is a 7500 word lesbian, oral, mind control, exhibitionism, public sex, fingering erotica that is not for the faint at heart!






by





by