I have published a the first part of the revamped Tales from the Best Buy Incident. Join Veronica as she deals with her obsession for the strangers cock. This is a cleaned up version of The Obsession.
You can pick it up here! And, of course, I offer it free to my fans if you chose to!
Regular Price: $1.99
50% off with XW64B coupon at checkout
100% off with PH44J coupon at checkout.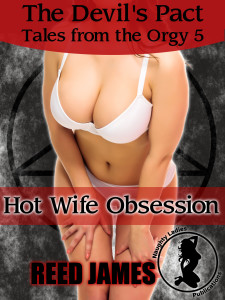 After the Buy Best Orgy, a hot wife is obsessed with a stranger, burning to be taken hard again!
During the orgy, Veronica spent the entire time with the stranger. His hard passion brought her to heights of passion the hot wife had never experienced. In the two weeks since, she can't stop thinking about him.
Unable to find release even with her husband, Veronica finds herself burning to cheat on her husband.
When she meets her obsession again, Veronica waste no time. She's ready to be taken hard over and over and finally find her release no matter the consequences!
Hot Wife's Obsession is a 6900 word cheating, hot wife, menage, oral, exhibitionism, voyeurism erotica that is not for the faint at heart!






by





by