I have published a the next part of the revamped Naked Jogging Club. It takes place during The Devil's Pact Part 12: Submissive Cop and The Devil's Pact Part 13: Submissive Lust. Join Belinda and her daughter Cassie as they get int naughty fun!
You can pick it up here! And, of course, I offer it free to my fans if you chose to!
Regular Price: $0.99
100% off with ZB59K coupon at checkout. RIGHT COUPON THIS TIME!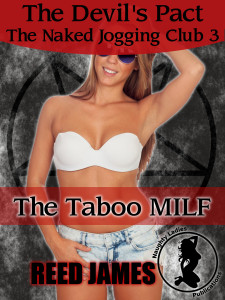 Belinda and Cassie are about to join the Naked Jogging Club.
Belinda has known Cassie her entire life. She enjoys jogging with the young woman. But things change when the MILF and the young woman come across the Naked Jogging Club. With a few simple commands from Mark, Belinda and Cassie have no choice but to join the club, stripping naked right there on the street.
Mark can control people's minds. Belinda's world changes as Mark orders her to be his slut. She's eager to get down and dirty with even Cassie, no matter how wrong that would be!
The Taboo MILF is a 4500 word mind control, exhibitionism, menage, taboo, forbidden, MILF, oral, anal, sixty-nine, creampie erotica that is not for the faint at heart!






by





by