I have published a the next part of the revamped Naked Jogging Club. It takes place during The Devil's Pact Part 16: Virgin Deisres. Join young Issy as she joins the fun!
You can pick it up here! And, of course, I offer it free to my fans if you chose to!
Regular Price: $0.99
100% off with RG93H coupon at checkout.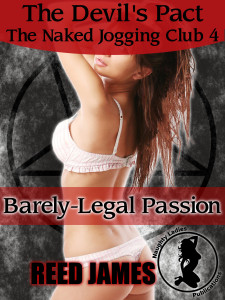 Barely-legal Issy joins the Naked Jogging Club!
Issy wants to fight Mark's command. She doesn't want to join his jogging club, but she can't resist the powers of her voice. This young woman meets up with the others and bares all to the world!
Excited and scared, she discovers who she really is as she's taken hard by Mark from behind!
Barely-Legal Passion is a 3600 word mind control, harem, exhibitionism, menage, oral, MILF erotica that is not for the faint at heart!






by





by