I have published a the next part of the revamped Naked Jogging Club. It takes place during The Devil's Pact Part 22: Naughty Nun Delight. The Naked Jogging Club is eager for Mark, but he's distracted by his baby sister!
You can pick it up here! And, of course, I offer it free to my fans if you chose to!
Regular Price: $0.99
100% off with DF37P coupon at checkout.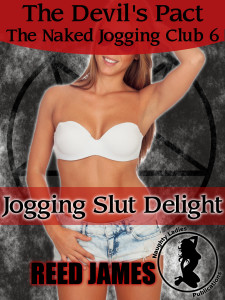 The women of the Naked Jogging Club are eager to bare all before enjoying a hot orgy with their Master, Mark!
Anastasia, Vertise, Madeleine, Cassie, Belinda, and Issy are eager for Mark to show up to start the naked jogging club. These women love nothing more than exhibiting all their curvy, nubile bodies as they jog with Mark.
But the post-jog orgy is the best part.
But Mark no longer seems interested in his jogging sluts. Will the ladies wait forever for their jogging masters, or have they jogged naked for the last time?
Jogging Slut Delight is a 3800 word mind control, sex slave, menage, rimming, anal, exhibitionism erotica that is not for the faint at heart!






by





by