Hello everyone,
I am recovering from my cold, but it has nothing to do why not much was published this week. I had to take a week off of writing The Futa Fairy series to plot out the final tale. It'll be longer than three parts as our ten futas has to pay the price for their wishes in a cum-filled finale! The first part will be up middle of next week.
And I'll be starting the fourth Triad story, The Triad and the Village of Pregnant Beauties, next thursday. Seamus, Fiona, and Aoifa are back investigating a village where all the men have vanished and all the women are pregnant. Seamus is eager to dive in and inspect all the pregnant hotties while Fiona is more concerned about figuring out what happened.
After the Triad finishes its short run, I'll have another week off and then it'll be The Rakshasa's Heart. This is a femdom story written about a rakshasa princess mired in the bloody politics of the Queendom of Naith. When she sees the opportunity to become queen, she plots with her human sex slave Lucy to seize the throne for herself.
And then I have a much longer fantasy erotic series in the work, a three book trilogy called the Rogue's Harem. About Sven, a roguish hero plotting revenge of his family on an evil tyrant. With hi is his sexy sister a priestess of Rithi (Goddess of Art), a submissive lamia, and a naughty princess with unusual powers. Set 800 years before The Knight and the Acolyte as the various powers of the lands of Zeutch vie for dominance in the wake of the collapse of the High King's Empire.
If you're looking to support my writing, for as little as a $1 a month, you can join my Patreon. You can get access to free stories that I publish on Amazon as well as one free erotic story a month. This month is Futanari Lipstick Surprise, about a woman who becomes a futa thanks to an interaction of her beauty products. Shocked by it, she ends up in a hot threesome with a mother and daughter behind her boyfriend's back.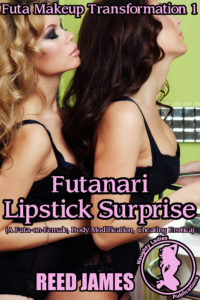 A young woman is transformed into a futa when using a new brand of lipstick!
Heather is eager for her night out with her boyfriend. They're having dinner with those closest with her boyfriend. Using her new lipstick, Heather's starting to feel an itch beneath her skirt as she turns into a futa! Growing more and more excited, she can't help but get turned on by Susan, a sexy MILF, and youthful Dee during dinner.
But when her futa transformation hits her, Heather flees to the bathroom. Shocked by the extra bit sprouting from her crotch, Heather is unprepared for the pleasure her futa-addition gives her. Especially when nubile Dee and mature Susan burst in on her.
The new futa's in for one hot, taboo threesome!
Futanari Lipstick Surprise is a 7300 word futa-on-female, body modification, cheating, oral, creampie, anal, taboo, MILF, older woman/younger futa, erotica that is not for the faint of heart!






by





by