I have published a revamped version of the Devil's Pact Side-Story: Lillian Gets Spanked. Join Lillian as she gets punished for insulting Violet. It takes place during The Devil's Pact Part 39: Demonic Passion!
You can pick it up here! And, of course, I offer it free to my fans if you chose to!
Regular Price: $0.99
100% off with KP26N coupon at checkout.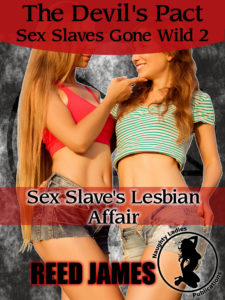 A naughty sex slave has a hot, lesbian affair with a cute and nubile maid!
Violet is in love. The young sex slave has given her body to her masters, but her heart to Cindy. But April, Violet's fellow sex slave and girlfriend, has no idea about the wicked lesbian affair.
Despite her guilt, Violet can't keep away from the naughty Cindy.
And tonight she's eager to be taken hard by Cindy and her new, naughty toy. The wicked maid has bought a strap-on to take Violet hard. The two sexy lesbians get wet and wild with each other behind April's back!
Sex Slave's Lesbian Affair is a 4000 word mind control, lesbian, oral, cheating, barely legal, sex toy, dildo, strap-on erotica that is not for the faint of heart!






by





by