I have published the thirty-sixth part of the Devil's Pact on Smashword just now!
You can purchase it here! I have several price options for my fans that will only be found here on this blog! Pay what you feel is appropriate or just pick it up for free! This covers chapter 39 and the side-story Leah's Reunion. Much of the original material was cleaned up and rewritten bringing it to 28,000 words.
I would love feedback. If you don't want to leave reviews at Smashword (which I would really appreciate!!!) then please comment on this post and let me know what you think of the changes.
Regular Price: $2.99
33% off: $1.99 with YP78C coupon at checkout.
66% off: $0.99 with XD87N coupon at checkout.
100% off: Free with DL65Q coupon at checkout.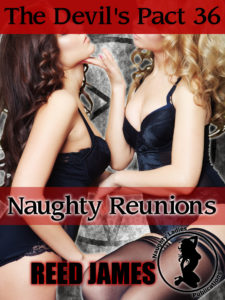 Mark and Mary have a passionate, orgiastic reunion with their family and loved ones!
Mark and Mary have survived Brandon's attack. Now they can reunite with their sex slaves and family. And the pair are eager to writhe in passion with Mark's hot mother and his naughty sister. The pair enjoy incestuous passion.
But others who survived are scared by what they experienced. They will need the love and passion of their significant others. Alison and Desiree have a naughty reunion, reveling in their lesbian desire. Rachel and Jacob will make sure their wife Leah, burns with pleasure.
But new threats plot against them.
Goddess of Passion is a 28,000 word mind control, domination/submission, oral, anal, menage, exhibitionist, voyeurism, incest, mother/son, brother/sister, watersports, lesbian, supernatural erotica that is not for the faint of heart!






by





by