I have published the twenty-fifth part of the Devil's Pact on Smashword just now!
You can purchase it here! I have several price options for my fans that will only be found here on this blog! Pay what you feel is appropriate or just pick it up for free! This part covers the second half of Chapter 27 and Rachel's Honeymoon Chapter 2-4. There are new scenes and much of the original material was cleaned up and rewritten (including a adding a pair of sexy twins), bringing it to 26,000 words.
I would love feedback. If you don't want to leave reviews at Smashword (which I would really appreciate!!!) then please comment on this post and let me know what you think of the changes.
Regular Price: $2.99
33% off: $1.99 with CU55G coupon at checkout.
66% off: $0.99 with AE68H coupon at checkout.
100% off: Free with EC89G coupon at checkout.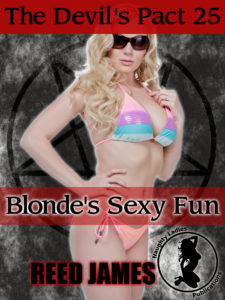 A married woman has a wild time while under Mark and Mary's domination!
Rachel didn't expect to spend her honeymoon away from her husband Jacob. But then she ran into Mark and Mary. Under their mind control, the hot wife is discovering a whole new side to her sexuality. Along with the blonde Leah, Rachel goes wild. The hot wife will do anything.
Including being taken hard on the dance floor of a club!
While Rachel has her fun, Mark and Mary close in on their goal in New York City. At NYU they meet the smart and sexy Sam, a cute coed majoring in ancient languages. Sam, under Mary's power, embraces her sexuality. She has her first orgasm with Mark and Mary, and is ready for more.
But Mark and Mary's enemies plot. Sister Theodora gathers men to attack Mark while Brandon continues his hunt for dark power.
Blonde's Hot Fun is a 26,000 word mind control, harem, domination, submission, oral, anal, creampie, menage, hot wife, bride, cuckold, rimming, taboo, interracial, public sex, supernatural erotica that is not for the faint at heart.






by





by