I have published the thirty-second part of the Devil's Pact on Smashword just now!
You can purchase it here! I have several price options for my fans that will only be found here on this blog! Pay what you feel is appropriate or just pick it up for free! This covers chapter 35. There are many new scenes (Mark and Mary have some fun on their Honeymoon before it's ruined) and much of the original material was cleaned up and rewritten, bringing it to 18,000 words.
I would love feedback. If you don't want to leave reviews at Smashword (which I would really appreciate!!!) then please comment on this post and let me know what you think of the changes.
Regular Price: $2.99
33% off: $1.99 with XT35K coupon at checkout.
66% off: $0.99 with YU66M coupon at checkout.
100% off: Free with TT44X coupon at checkout.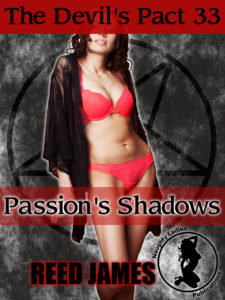 A pregnant mother and her daughter have a hot threesome to cast a naughty spell!
Mark and Mary are preparing for their big event. But first they need to cast a naughty spell and Mary's pregnant mother is just the woman they need. Mary is eager to have a sexy threesome with her mother and husband.
And that's just the start of the hot fun as Mark heads to the event, enjoying his sex slaves, particularly busty Desiree, and the Mayor's hot wife!
But a shadow looms over the events. Brandon Fitzsimmons plotting has come to the end. He will have his revenge on Mark and regain his stolen wife, Desiree!
Passion's Shadows is a 18,000 word mind control, domination/submission, oral, creampie, menage, anal, public sex, exhibitionism, voyeurism, hot wife, incest, mother/daughter, futa-on-female, pregnant, titty sex, pearl necklace erotica that is not for the faint of heart!






by





by