I have published a revamped version of the Devil's Pact Side-Story: Lillian Gets Spanked. Join Lillian as she gets punished for insulting Violet. It takes place during The Devil's Pact Part 39: Demonic Passion!
You can pick it up here! And, of course, I offer it free to my fans if you chose to!
Regular Price: $0.99
100% off with ED93V coupon at checkout.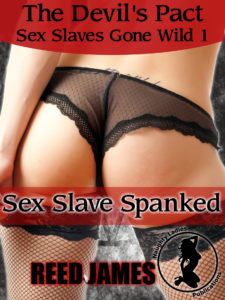 A naughty sex slave is spanked by her sultry mistress while her master watches!
Lillian loves being one of Mark and Mary's sex slave. The wicked girl gets off on being their submissive. But when she's been bad, Mary summons the naughty slut for punishment. Lillian will have to apologize with her tongue pleasure her Mistress's body.
And take her punishment as her Mistress urinates in her mouth.
But the part the hot slut truly craves is the spanking. To feel the hairbrush spanking her cute rump until she burns in rapture. All while her hunky Master watches.
Sex Slave Spanked is a 4400 word mind control, domination/submission, oral, menage, lesbian, spanking, punishment, humiliation, watersports erotica that is not for the faint of heart!






by





by