I have published the second part of the Devil's Pact on Smashword just now!
You can purchase it here! I have several price options for my fans that will only be found here on this blog! Pay what you feel is appropriate or just pick it up for free! This part covers chapters two and three of the original story with two new scenes featuring Sister Mariam Theodore.
Regular Price: $2.99
33% off: $1.99 with ME96C coupon at checkout.
66% off: $0.99 with JQ28C coupon at checkout.
100% off: Free with ZA75V coupon at checkout.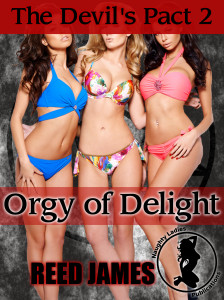 Mark wished for the power to control people with his words. What he commands, they have to obey. He had dreams of experiencing all the pleasures the beautiful women of the world he wanted. He didn't expect to fall in love.
The sweet and sexy redhead Mary bewitched his heart.
But Mark needs to change a few things about her to make her his perfect woman. Mark arranges for the sultry Joy, a sexy Asian stylist, to give Mary a wax and some intimate pleasure, he heads over to the local electronic store to pick a few toys.
Reveling in his powers, Mark finds a store full of beautiful women to enjoy. A simple announcement over the PA and the entire store falls under his powers, consumed with lust. Freed from their inhibitions, the shoppers of the Buy Best give into their debauched desires.
While an orgy of lust consumes the Buy Bust, Sister Mariam Theodore makes her assault on the Warlock Tex's stronghold, turning his Thralls into her own weapons. But the nun has made a grave mistake as she steps into danger.
The Devil's Pact Part 2: Orgy of Lust is a 21,000 word Mind Control, public fun erotica that is not for the faint at heart!
If you want coupons for Part One, read this blog post!






by





by