I have published the first part of the Devil's Pact on Smashword just now!
You can purchase it here! I have several price options for my fans that will only be found here on this blog! Pay what you feel is appropriate or just pick it up for free!
Regular Price: $2.99
33% off: $1.99 with WB45X coupon at checkout.
66% off: $0.99 with XN49Y coupon at checkout.
100% off: Free with TA79E coupon at checkout.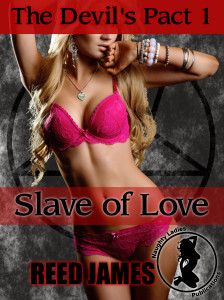 The Pact with the Devil was simple: three wishes, one soul.
Mark was more than willing to pay the price to get what he has always wanted–the power to control people's minds.
And he's on the prowl to find sexy women to fulfill all his desires. But he doesn't count on the bewitching redhead Mary stealing his heart.
While Mark indulges his depraved fantasies, Sister Mariam Theodore, a nun of the Order of Mary Magdalene, hunts for another man who has made a Pact with the Devil. Her and her order are dedicated in defeating men and women like Mark, exorcising their powers away.
And behind it all, the Devil plots and schemes.
The Devil's Pact is a 23,000 word mind control, supernatural erotica. This story is not for the faint at heart!






by





by