I have published the thirteenth part of the Devil's Pact on Smashword just now!
You can purchase it here! I have several price options for my fans that will only be found here on this blog! Pay what you feel is appropriate or just pick it up for free! This part covers most of Chapter Sixteen. There are new scenes and much of the chapter was cleaned up and rewritten.
I would love feedback. If you don't want to leave reviews at Smashword (which I would really appreciate!!!) then please comment on this post and let me know what you think of the changes.
Regular Price: $2.99
33% off: $1.99 with VK99D coupon at checkout.
66% off: $0.99 with ZJ75B coupon at checkout.
100% off: Free with UD56G coupon at checkout.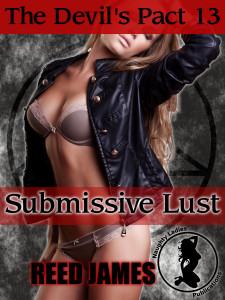 As Mark and Mary enjoy the submission of their sex slaves, the FBI ready to take them down.
Mark has enjoyed his mind control powers, but his actions haven't gone unnoticed. From his public debauchery to his collection of nubile women into his harem, the world was taken notice. When a jealous husband tips off the FBI to Mark's location, they mobilize.
Meanwhile, Mark and his fiancee Mary enjoy their newest submissive, the beautiful and sultry reporter Jessica St. Pierre. They have no idea the might of the FBI is about to descend in the next sultry chapter of the Devil's Pact.
Submissive Lust is 19,000 words of mind control, harem, menage, group sex, MFM, double penetration, female domination, domination, submission, anal, oral erotica that is not for the faint at heart.






by





by