I have published the seventh part of the Devil's Pact on Smashword just now!
You can purchase it here! I have several price options for my fans that will only be found here on this blog! Pay what you feel is appropriate or just pick it up for free! This part covers chapter nine. There's plenty of new scenes and several rewritten parts.
I would love feedback. If you don't want to leave reviews at Smashword (which I would really appreciate) then please comment on this post and let me know what you think of the changes.
Regular Price: $2.99
33% off: $1.99 with QQ85K coupon at checkout.
66% off: $0.99 with YC63Q coupon at checkout.
100% off: Free with SJ54T coupon at checkout.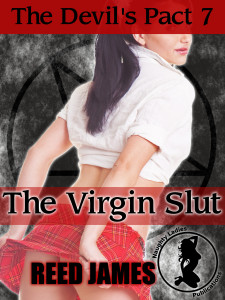 Mark adds a virgin to his harem!
Mark and Mary had a wild celebration in Seattle to celebrate their engagement. With their Mind Control powers, the pair have three new sex slaves: sultry Korina, submissive Xiu, and feisty Fiona.
But their appetite for debauchery grows, and Mark and his sexy fiancee have their eyes set on Violet. The cute, eighteen-year-old virgin is going to learn how to get down and dirty!
While Mark and Mary revel in debauchery, Sister Louise has caught their scent and found their home. The nun won't rest until she has defeated Mark.
The Virgin Slut is a 18,000 word mind control, harem, domination/submission, watersports, exhibitionism, bondage, and more depraved fun! This supernatural erotica is not for the faint at heart!






by





by