I have published a brand new Devil's Pact Side-Story. This one has never been published on my blog or any other site and only exists in the continuity of the published version.
You can pick it up here! And, of course, I offer it free to my fans if you choose!
Regular Price: $0.99
100% off with NK98C coupon at checkout.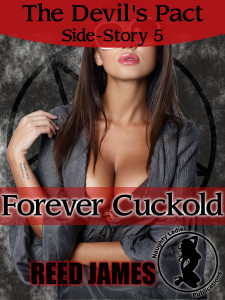 After Mike crossed a man with Mind Control powers, he finds himself madly in loves Minnie. He wants to marry her. The only problem, Minnie enjoys cuckolding him!
Mike hates it when Minnie cuckolds him. But he just doesn't have the spine to stop her. When they go to jewelry store to pick out an engagement ring, Minnie can't help flirting with the clerk.
When the ring she wants is out of Mike's price range, Minnie knows just how to get a discount. Mike can only watch as his girlfriend gets down and dirty, using every skill she possesses to get a discount on her engagement ring.
Forever Cuckold is a 4300 cuckolding, voyeurism, backdoor fun erotica that is not for the faint at heart.
A story of the Devil's Pact Universe.






by





by