I have published the nineteenth part of the Devil's Pact on Smashword just now!
You can purchase it here! I have several price options for my fans that will only be found here on this blog! Pay what you feel is appropriate or just pick it up for free! This part covers chapter 21. There are new scenes and much of the original material was cleaned up and rewritten, bringing it to 23,000 words.
I would love feedback. If you don't want to leave reviews at Smashword (which I would really appreciate!!!) then please comment on this post and let me know what you think of the changes.
Regular Price: $2.99
33% off: $1.99 with XP63X coupon at checkout.
66% off: $0.99 with PQ77P coupon at checkout.
100% off: Free with GP74B coupon at checkout.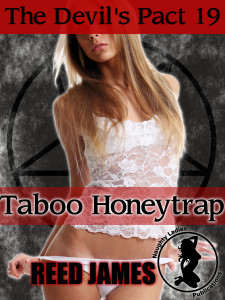 Taboo passions burn hot as Mark enjoys the women closest to him!
When tragedy strikes, Mark and Mary are there to comfort Sandy. But comfort turns to passion, and Mark and the woman of the house cross the most taboo line possible. With Mary's help, Mark and the woman he's known all his life will discover forbidden delights.
Sister Theodora, a nun, has enchanted Antsy, a young woman close to Mark. She has become a trap for Mark, the next attack by the nuns to stop Mark and Mary. If Mark gives into his taboo desire for Antsy, the spell will be triggered.
Will Mark trigger the honeytrap?
Taboo Honeytrap is a 23,000 word mind control, taboo, harem, sex slave, magic, supernatural, menage, oral, public sex, food play erotica that is not for the faint at heart.






by





by