I have published the twentieth part of the Devil's Pact on Smashword just now!
You can purchase it here! I have several price options for my fans that will only be found here on this blog! Pay what you feel is appropriate or just pick it up for free! This part covers chapter 24. There are new scenes and much of the original material was cleaned up and rewritten, bringing it to 24,000 words.
I would love feedback. If you don't want to leave reviews at Smashword (which I would really appreciate!!!) then please comment on this post and let me know what you think of the changes.
Regular Price: $2.99
33% off: $1.99 with JM32G coupon at checkout.
66% off: $0.99 with VZ94A coupon at checkout.
100% off: Free with PU25V coupon at checkout.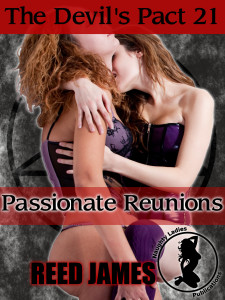 Mark and Mary celebrate their reunion with an orgy!
Mark has been freed from his sexual obsession with Antsy by his fiance Mary. Now Mark and Mary celebrate their reunion with those closet to them. Wanting to share their joy, the pair give sex slaves to their taboo lovers!
Back at home, the sluts eagerly wait for Mark and Mary's return. They plan on giving their Master and Mistress a loving, passionate welcome! Lusts burn as the harem writhes in pleasure!
But unknown to Mark and Mary, a new threat looms on the horizon. Brandon Fitzsimmons has a lead on a book that can give him powers equal to Mark and Mary, and he's eager to get revenge!
Passionate Reunions is a 24,000 word mind control, taboo, harem, sex slave, magic, supernatural, menage, oral, toys, lesbian, voyeurism, watersports erotica that is not for the faint at heart.






by





by