I have published the twenty-sixth part of the Devil's Pact on Smashword just now!
You can purchase it here! I have several price options for my fans that will only be found here on this blog! Pay what you feel is appropriate or just pick it up for free! This part covers Chapter 30. There are new scenes and much of the original material was cleaned up and rewritten, bringing it to 19,000 words.
I would love feedback. If you don't want to leave reviews at Smashword (which I would really appreciate!!!) then please comment on this post and let me know what you think of the changes.
Regular Price: $2.99
33% off: $1.99 with PW58D coupon at checkout.
66% off: $0.99 with RD36X coupon at checkout.
100% off: Free with ZP96Y coupon at checkout.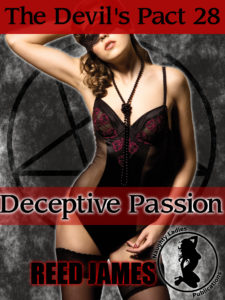 Mark and Mary have a passionate reunion after defeating Sister Mariam Theodora!
Mark is shocked. Instead of exorcising his power, Sister Mariam Theodora has given him her gift. Now a normal woman, she reveals that she is Mary's estranged mother. Reunited, Mark and Mary celebrate on the drive home, writhing in passion in the backseat.
Sister Mariam Theodora, now returning to her original name of Tiffany, is apprehensive to reunite with her husband and two daughters. Will they hate her for abandoning them or can they forgive her? And will she be able to accept the taboo relationship her husband has formed with their daughters?
While Mark and Mary pickup the pieces, the video of Mark's shooting and healing have gone viral, dubbed "the Miracle." Deceived by Lilith's demonic powers, the women Mark has encountered realize the truth—Mark transformed them with his divine powers.
Deceptive Passion is a 26000 word mind control, domination/submission, oral, incest, mother/daughter, creampie, menage, anal erotica that is not for the faint of heart!






by





by