I have published the thirty-eighth part of the Devil's Pact on Smashword just now!
You can purchase it here! I have several price options for my fans that will only be found here on this blog! Pay what you feel is appropriate or just pick it up for free! This covers the bulk of chapter 40 and chapter 41. Much of the original material was cleaned up and rewritten bringing it to 18,000 words.
I would love feedback. If you don't want to leave reviews at Smashword (which I would really appreciate!!!) then please comment on this post and let me know what you think of the changes.
Regular Price: $2.99
33% off: $1.99 with FJ69H coupon at checkout.
66% off: $0.99 with WC84Z coupon at checkout.
100% off: Free with YF95J coupon at checkout.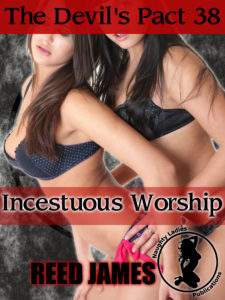 A mother and daughter make love to each other to please their God!
Mark has arrived in Washington, D.C. With his mind control powers, he plans on dominating the U.S. Congress. But first, he's eager to have fun with a sexy mother and her nubile daughter. Tibby and her daughter are excited to be chosen by their "god."
And they're eager to indulge in lesbian incest for their god's pleasure.
As Mark enjoys his wild threesome with a the hot wife and her daughter, his enemies move into position. Noel, his former sex slave, vows revenge on Mark and his wife. And her followers lie in ambush.
Incestuous Worship is a 22,000 word mind control, domination/submission, oral, anal, creampie, breeding, menage, incest, mother/daughter, lesbian, supernatural, magic, cheating, cuckolding, voyeurism, exhibitionism, public erotica that is not for the faint of heart!






by





by