I have published the fifth part of the Devil's Pact on Smashword just now!
You can purchase it here! I have several price options for my fans that will only be found here on this blog! Pay what you feel is appropriate or just pick it up for free! This part covers chapters six and the second side-story (Mary and Diane in the Bathroom) of the original story with a lots of new scenes. I always wanted a scene where Mary's boyfriend comes back.
I would love feedback. If you don't want to leave reviews at Smashword (which I would really appreciate) then please comment on this post and let me no what you think of the changes.
Regular Price: $2.99
33% off: $1.99 with FD35U coupon at checkout.
66% off: $0.99 with YP35L coupon at checkout.
100% off: Free with YQ59N coupon at checkout.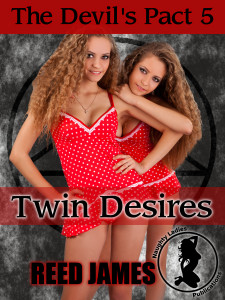 Mark sold his soul to the Devil for the power to control people's minds.
Mark has told his girlfriend the source of his power. Mary loves him and enjoys the perks of his power. But there's only one way for the couple to truly be equal—she has to make a pact of her own.
But first, they need supplies. While shopping, they come across a pair of beautiful eighteen-year-olds that mirror each other. Twin desires beat in Mark and Mary's heart as the pair indulge in depraved lust with the pair of similar, virgin hotties. Mark and Mary's day is one sultry encounter after another. A taboo orgy, a sexy salesgirl, and cuckolding revenge on Mary's ex-boyfriend.
And while Mark and Mary have their fun, a PI investigates Mark, trying to get to the bottom of his unique powers while the Sisters of Mary Magdalene prepare to take the fight against Mark.
Twin Desires is a 18,000 word mind control, taboo, orgy, menage, lesbian, cuckolding erotica that is not for the faint at heart!






by





by