I have published the sixth part of the Devil's Pact on Smashword just now!
You can purchase it here! I have several price options for my fans that will only be found here on this blog! Pay what you feel is appropriate or just pick it up for free! This part covers chapter seven and eight in their entirety. While there's not a lot of new material, much has been rewritten, particularly chapter eight.
I would love feedback. If you don't want to leave reviews at Smashword (which I would really appreciate) then please comment on this post and let me know what you think of the changes.
Regular Price: $2.99
33% off: $1.99 with QY78W coupon at checkout.
66% off: $0.99 with PZ98H coupon at checkout.
100% off: Free with GQ29Y coupon at checkout.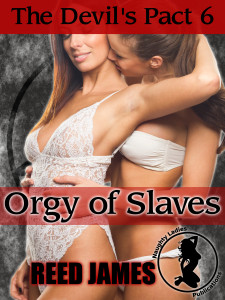 Mary has made her choice and sold her soul, becoming Mark's equal.
When Mark sold his soul to the Devil for the power to control people's minds, he expected to have riches and all the women he could want. He never expected to fall in love with a woman just as perverse as him.
Together, they enjoy themselves, dominating any hot woman that catches their eye.
Mark asks Mary out on a date. A day of romantic fun and hot sex. Mark's ready to propose to his perfect woman, the perfect end to a perfect date. And he knows just how to celebrate—an orgy atop the Space Needle.
While Mark and Mary revel in hedonistic delights, Sister Louise Afra, a Magdalenite Nun, is on their trail. She plans on stopping Mark's fun.
The Devil's Pact 6: Orgy of Slaves is a 24,000 word mind control, sex slaves, harem, lesbian, orgy, exhibitionist erotica that is not for the faint at heart!






by





by