I have published the eighth part of the Devil's Pact on Smashword just now!
You can purchase it here! I have several price options for my fans that will only be found here on this blog! Pay what you feel is appropriate or just pick it up for free! This part covers chapter ten and eleven. There's plenty of new scenes and several rewritten parts. This also ends the first of the Devil's Pact 4 arcs.
I would love feedback. If you don't want to leave reviews at Smashword (which I would really appreciate) then please comment on this post and let me know what you think of the changes.
Regular Price: $2.99
33% off: $1.99 with EY62P coupon at checkout.
66% off: $0.99 with SU45S coupon at checkout.
100% off: Free with YA52X coupon at checkout.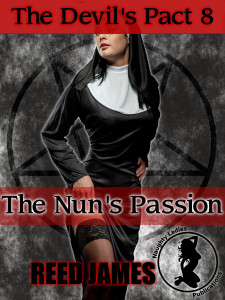 Sister Louise is closing in on Mark and Mary!
Mark and Mary just want to have fun. They sold their souls for powers and they just want to enjoy their submissive sex slaves, to revel in the pleasures of the flesh, and share their love together. They plan their future as they lie in bed, dreaming of a mansion full of horny women to please them.
But Sister Louise, a nun of the Order of Mary Magdalene, has other ideas. Her order is sworn to stop men and women like Mark and Mary. While Mark and Mary head out to make arrangements for their mansion, Sister Louise enchants their sex slaves, turning them into weapons.
A ticking time bomb waits Mark and Mary's return home. What will happen when the face the nun's passion?
The Nun's Passion is a 24,000 word mind control, exhibitionism, domination, public sex, cuckolding, hot wife erotica that is not for the faint at heart!






by





by