I have published the eighth part of the Devil's Pact on Smashword just now!
You can purchase it here! I have several price options for my fans that will only be found here on this blog! Pay what you feel is appropriate or just pick it up for free! This part covers chapter twelve. There are new scenes and much of the chapter was cleaned up and rewritten. This Chapter starts the Book 2.
I would love feedback. If you don't want to leave reviews at Smashword (which I would really appreciate) then please comment on this post and let me know what you think of the changes.
Regular Price: $2.99
33% off: $1.99 with FP56S coupon at checkout.
66% off: $0.99 with ZD88A coupon at checkout.
100% off: Free with YH63K coupon at checkout.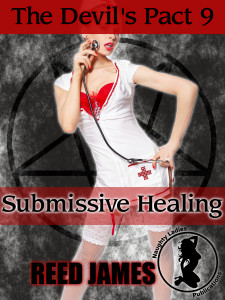 In the aftermath of Sister Louise's attack, Mark and Mary discipline the nun.
Sister Louise, her power broken by the demon Lilith, is punished for attacking Mark and Mary. Mark just wanted to have fun with his mind control power, but now knows forces move against him and his harem of nubile sex slaves.
Heading to the hospital to tend to his injuries, Mark and Mary enjoy the sultry, Arabic nurse. With her submissive touch, she tends to Mark and his sexy fiancee's wounds. Mark enjoys her sponge bath and Mary her nimble tongue.
But while Mark relaxes, Sister Theodora Mariam is dispatched to stop Mark, armed with new magics to defeat him.
Submissive Healing is a 23,000 word Mind Control, Harem, Menage, Exhibitionism, Oral Sex, Anal Sex, BDSM, Spanking, Medical erotica that is not for the faint at heart!






by





by