I have published a brand new Devil's Pact Series: The Naked Jogging Club. This is only an overhaul of the first section of The Devil's Pact Side-Story: The Naked Jogging Club.
You can pick it up here! And, of course, I offer it free to my fans if you choose!
Regular Price: $0.99
100% off with GK35C coupon at checkout.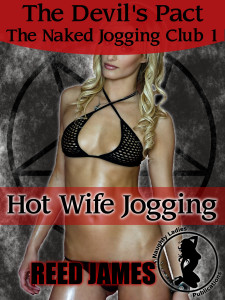 Anastasia had no idea how naughty she would be on her morning jog.
Anastasia is a hot housewife, jogging to keep her body tight. This morning, she comes across Mark jogging naked. The horny man works his mind control powers on the sexy wife. In a blink of the eye, Anastasia is throwing off her clothes and joining the Naked Jogging Club.
Anastasia reveals all as she jogs with Mark, savoring the hundreds of eyes watching her sexy body as she jogs down the road. When she reaches her home, she surrenders her body to Mark's lust as her husband gets ready for work upstairs.
But will the naughty wife get caught cuckolding her husband?
Hot Wife Jogging is a 4200 word mind control, exhibitionism, cuckolding, cheating, hot wife erotica that is not for the faint at heart!
A story of the Devil's Pact Universe!






by





by