I have published a the first part of the revamped Tales from the Best Buy Incident. Join Jessie as she discovers a new way to give customer service! This covers the last two chapters of the Number One Rule of Retail.
You can pick it up here! And, of course, I offer it free to my fans if you chose to!
Regular Price: $1.99
50% off with PD46H coupon at checkout
100% off with LJ89W coupon at checkout.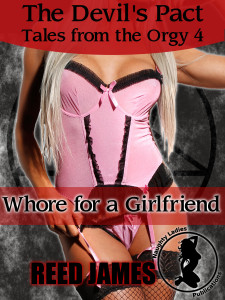 Kevin's new girlfriend makes sure every customer is satisfied with her tight, nubile body!
Kevin is thrilled to be dating the girl of his dreams. Jessie is cute and sexy. But Kevin has no idea how's she making all her extra money. Ever since the orgy, Jessie has realized a better way to satisfy the customers—by whoring out her hot, young body.
When Kevin catches his girlfriend bent over the sink while being pounded hard from behind by a customer, everything changes. How will Kevin handle learning he has a whore for a girlfriend?
Whore for a Girlfriend is a 9200 word mind control, voyeurism, prostitution, oral, anal, menage, workplace erotica that is not for the faint at heart.






by





by