I have published the fourth part of the Devil's Pact on Smashword just now!
You can purchase it here! I have several price options for my fans that will only be found here on this blog! Pay what you feel is appropriate or just pick it up for free! This part covers chapters five, the beginning of chapter six, and the first side-story (Mary and Alison Take a Shower) of the original story with a lot of new scenes. This starts the Doug storyline and has new Desiree POV's and a Brandon POV.
I would love feedback. If you don't want to leave reviews at Smashword (which I would really appreciate) then please comment on this post and let me no what you think of the changes.
Regular Price: $2.99
33% off: $1.99 with XE67X coupon at checkout.
66% off: $0.99 with RN66W coupon at checkout.
100% off: Free with DK52W coupon at checkout.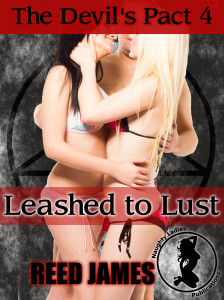 Mark sold his soul to the Devil for the power to control people's minds.
And he's having a lot of fun. With his new, sexy girlfriend Mary and their nympho sex slave Alison, Mark sets out to see what new debauchery he can find. From taking a wife in the restroom to cuckolding a man with his trophy wife, Mark's indulging in every fantasy in his dark soul.
Mark and Mary need a new place to stay and Brandon Fitzsimmons house is perfect for their needs. The Millionaire is kicked out, but Mark keeps his sultry wife Desiree around to play with.
But Mary, the one woman he loves, wants to know how Mark can make everyone dance on his strings. Mark decides to release his love and tell her his dark secret. Can Mary handle learning that she wasn't as willing to indulge in all the debased acts of the day as she thought?
Leashed to Love is a 21,200 word mind control, cuckolding, impregnation, lesbian, domination erotica that is not for the faint at heart!






by





by