I have published a brand new Devil's Pact Side-Story. This one has never been published on my blog or any other site.
You can pick it up here! And, of course, I offer it free to my fans if you choose!
Regular Price: $0.99
100% off with FW58V coupon at checkout.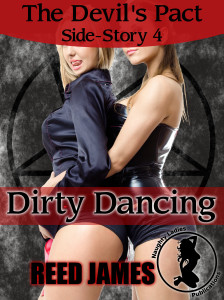 While Anne was helping Mary out at the back the store, she got a taste for pussy. Now she's going clubbing with Lillian to the Clam Diver. Via and Candy make appearances. If you missed out on Part 4 you can get some coupons for it here!
Anne and Lillian hit the sexy and sultry lesbian club—the Clam Diver.
Anne's life changed when Mark and Mary walked into her work. Not realizing she was put under his mind control, Anne happily got down and dirty with Mary and discovered a taste for feminine delights.
Now looking to explore her new-found bisexuality, she lets her friend Lillian take her to the hottest lesbian club. Anne is seduced by the pumping bass and exotic blacklights into a night debauched pleasure, baring all and dancing dirty with every hot woman that crosses her path.
And when Diane and Sarai pull her into a passionate threesome on the edge of the dance floor, Anne learns something else about herself—she loves to be watched!
Dirty Dancing is a 3300 word lesbian, exhibitionism, public fun, fisting erotica that is not for the faint at heart!
A short story of the Devil's Pact Universe.






by





by