I have published a revamped version of the Devil's Pact Side-Story: Cynthia and Vivian's First Webcast. Join Vivian and Cynthia as they get wild on camera. It takes place during The Devil's Pact Part 17: Taboo Menage!
You can pick it up here! And, of course, I offer it free to my fans if you chose to!
Regular Price: $0.99
100% off with TJ27D coupon at checkout.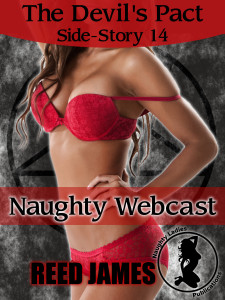 Vivian and her wild girlfriend, Cynthia, stream their passion for the world to see!
Last week, Vivian's life was changed by Mark. He awakened Vivian to her lesbian passion. Now dating Cynthia, Vivian is eager to bare all and get wild on camera for the horny delights of the world.
Cynthia and Vivian take each other hard with tongues, fingers, and naughty toys!
Naughty Webcast is a 4400 word lesbian, exhibitionism, oral, anal, sex toy, strap-on erotica that is not for the faint at heart!






by





by