I have published a brand new side-story. This short tale hasn't ever been published before. It takes place during The Devil's Pact Part 12: Submissive Cop. What happened after Mark kicked Abby out of his car? She was gangbanged by cops!
You can pick it up here! And, of course, I offer it free to my fans if you choose!
Regular Price: $0.99
100% off with SX45K coupon at checkout.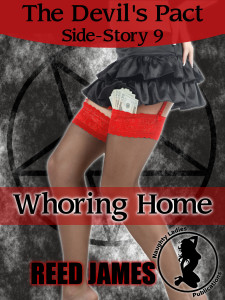 Abby's life changed after going for a ride with Ma
Thanks to Mark's mind control powers, Abby has had an awakening. She is a whore, and she knows there is only way for her to get home! Eager to prostitute herself for a ride, Abby thrust out her thumb.
Only it's a cop that sees her. Lucky for Abby, Officer Chan's also had experiences with Mark. The Police of Puyallup have enjoyed Mark's sluts before, and Abby is eager to take on the entire precinct to get home!
Whoring Home is a 2700 word mind control, prostitution, gangbang, double penetration, anal, oral, interracial erotica that is not for the faint at heart!






by





by